Home Equity Loans inOntario.
What is a Home Equity Loan?
A home equity loan is a borrowing facility that you might be eligible for if you are a property owner.  The property that you own can either be your principal residence, your second home, or an investment property. Similar to a traditional mortgage your mortgage lender will register their loan against your property as a mortgage charge. A home equity loan can be registered in either first, second, or third position. If your home is free and clear of any mortgages then a home equity loan will be registered in first position. If you have an existing low rate first mortgage with a costly prepayment penalty, then it would make sense to keep this mortgage in priority, and receive a home equity loan in 2nd position. In most cases home equity loans are typically payable monthly and structured as interest-only.  
Eligible Property Locations
You might find that most lenders tend to restrict their lending activity to property located in major urban centres. Property that is located in urban centres tend to be more marketable. Your mortgage lender might reduce their loan-to-value (LTV) or decline your mortgage application if your property is located outside of a major urban centre. Regardless, we have a successful track record of arranging private mortgages, second mortgages, third mortgages, and home equity loans across Ontario in rural and remote centres. Just because a property is located in what might be considered to be a softer marketplace does not mean the property is not lendable. In most cases, real estate markets are healthy in second and tertiary locations in Ontario . Regardless of being turned down elsewhere, you may very well be eligible for a home equity loan whether your property is located in an urban, rural, or remote location in Ontario. 
How Does a Loan-to-Value Work?
A loan-to-value (LTV) is a simple calculation that is a rule-of-thumb lending guideline that exists for all mortgage lenders. If your property is located in a non urban centre, your credit is less than perfect, you are self employed, or your debt service ratios are elevated, your mortgage lender might restrict their loan to valuer to 65%. This is what is known as a non-conforming loan. On the other hand, you might be approved for a home equity loan up to 80% LTV or more. With a home equity loan, your mortgage lender will place the majority of their underwriting emphasis on your property. In other words, they will determine their LTV based on the location, condition, and marketability of your property. 
How Much Can You Borrow?
In most cases home equity loan providers usually provide access to home equity loans starting as low as $20,000.  In most cases the amount of money that you can borrow is a function of your property value and home equity. As discussed above, in most cases, your mortgage lender will provide you with a home equity loan up to 80% of your homes value. For example, if your home is valued at $500,000, and you have an existing first mortgage of $300,000, you can access another $100,000 of equity. In very rare cases you might be able to receive a home equity loan up to 85% – 90% of the value of your home. These higher LTV options rarely exist in the alternative mortgage market and very few lenders chose to participate. However, it is very well possible to receive 100% more of the value of your property provided additional real estate collateral with sufficient equity. It is very important to speak with a professional mortgage broker to determiner all possible options. 
How Flexible Are Home Equity Loan Approvals?
If you are working with the right Mortgage Broker it can be very easy for you to be approved for a home equity loan. Over the past years there has been an abundance of new private mortgage lenders rushing into the alternative mortgage space. What does this mean? This means that consumers have many different options, which is good in theory, however this can be very confusing. You want to position yourself with a Mortgage Broker who is experienced and connected as this will save you a world of time, effort, and stress.
How Do I Qualify for a Home Equity Loan? 
This will very much come down to our earlier point about working with the right Mortgage Broker – allow us to elaborate. There are typically two types of private mortgage lenders that provide home equity loans. We will refer to them as X and Y.  
Private Mortgage Lender 'X': This mortgage lender will scrutinize your loan application under similar or near enough the same magnifying glass that your bank used. They might be selective of the property location and neighbourhood, want to dig into your employment, credit, and debt servicing ratios. They will also want employment and income verified or documented to a certain extent. On one hand, this lenders due diligence is highly respectable as they want to be near enough positive that the loans they provide will all be paid. On the other hand, the approval process might be difficult if you have had income and credit issues. What about the path of least resistance that you as a borrower seek?
Private Mortgage Lender 'Y':  This mortgage lender realizes that bad times happen to good people and sees little logic in taking the 'checkbox' approach that the bank and lender 'X' does. For one or more reasons you weren't able to qualify for a bank mortgage, usually a result of income, credit, or debt service rations. Mortgage lender 'Y' realizes that there is a large market for clients who cannot fit into the 'checkbox' world of the bank and caters accordingly to this market segment. These mortgage lenders will approve you regardless of you being turned down elsewhere. Whether you are self-employed, have seasonal employment, have unverifiable income, your application will be considered. If you have had previous or current credit or debt issues, this does not mean you cannot qualify. In fact, provided sufficient equity, you can be approved! 
Although we have access to handfuls of private mortgage investors and private mortgage lenders, it will always come down to cost and flexibility. Funny enough, our Z pricing tends to be similar if not lower than A pricing, with many less conditions.  While we constantly mention our belief in the importance of speed and efficiency, if there is cost friendlier money with a harder process, then we take the harder process. Every dollar counts. 
In Summary
As mentioned earlier, your Mortgage Broker should have 101%  of their time and energy invested in the mortgage industry. This ensures that they are always up to date on home equity loan product knowledge, awareness, and access. It isn't always about the 'lowest rate', it's important to understand the term length, pre-payment penalties, and what happens if you require an extension. There are so many reasons why it is in your interest to speak with an experienced Mortgage Brokerage. 
DV Capital Corporation provides access to some of the lowest interest rates available in the private mortgage market. Our online application process is incredibly simple and it very well compliments our swift review and approval process. Regardless of being turned down elsewhere, you can be approved provided sufficient equity.
"Experience doesn't cost, is pays!"
Contact us anytime to learn more about the benefits and simplicity of obtaining home equity loans in Ontario.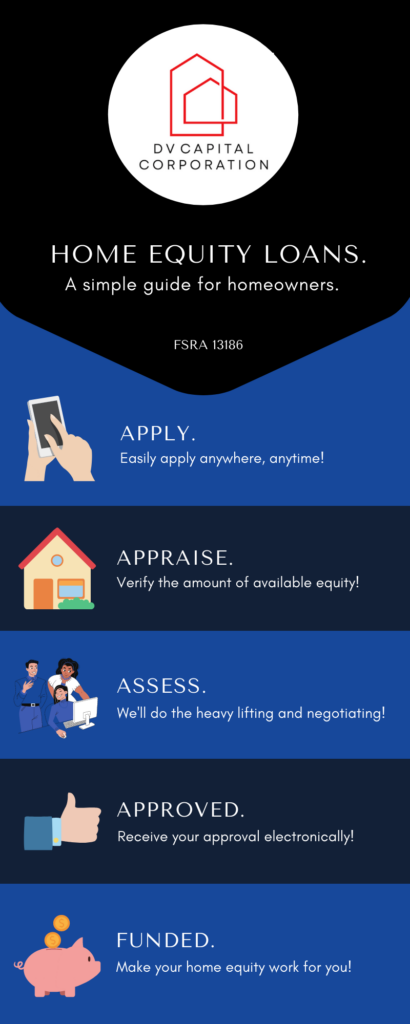 DV Capital Corporation
FSRA Brokerage License:. 13186
Local: 416-839-5874
Toll-Free: 1-866-839-5874
Email: [email protected]
Website: www.dvcapitalcorp.com